My wife and I have decided to install a tub surround around our tub (best place to put it!). We are planning on removing the tile and the drywall behind the tub and installing one of the surrounds that affixes directly to the studs (rather than a cheap glue-on surround). When we first bought our home, we considered having a complete one-piece insert installed, but the lady that came and took the measurements said we wouldn't be able to, due to the pocket door - I believe it was because the insert had a lip on the edge that would block the door.
My concern is the amount of space we have. We have a somewhat unique arrangement - as you can see in the pictures below, the end wall of the tub shares a wall with a pocket door. The pocket door slides into the wall behind the end of the tub. From the edge of the tile to the corner of the tile is 30 inches.
We also have a hall closet that shares the spout-side of the tub, so our tub is completely inset into an alcove area.
I was looking at a surround like the one below, from Lowe's (I can't find the actual surround we were looking at in the store, but this is close):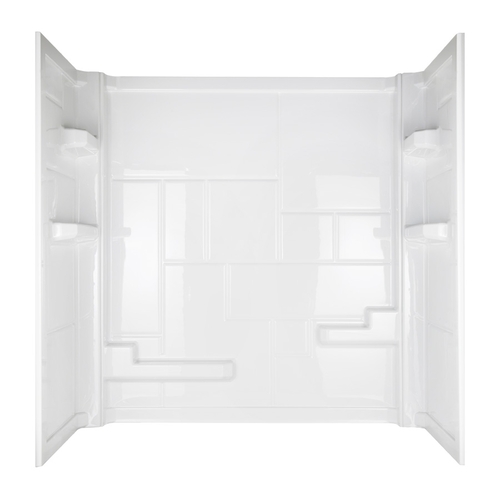 They all say that that they fit areas 29-32 inches deep, so I think we should be able to remove the tile and drywall and install the surround. I am not entirely sure how deep the area is going to be once we remove everything down to the studs.
My two questions are - do you think we have enough space to install the surround (i.e., will the fact that the tub is in an alcove matter), and will I be able to install a surround with the pocket door "pocketing" right behind the end wall?
Edit: If it matters, I was planning on following the instructions I found here, sans the new tub installation.