I have a column in my kitchen. As far as I can tell this is a decorative column, and doesn't contain anything structural -- I live in a high rise, it really cannot contain anything structural.
Yet, according to my fancy stud detector, it has metal 4 inches from either side, as shown here:
This doesn't seem to be a corner bead -- it seems to be an entirely different beast.
If you want to see the stud finder in action: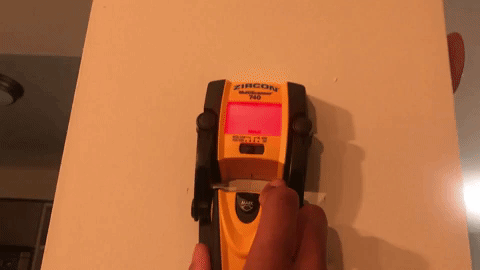 Can I drill through this? How thick is it? What is it? Can I still drill through this, and use a plastic toggle anchor?
UPDATE So, there's a couple things in here. I bought a Depstech Boroscope (I do not recommend buying one of these, they suck, but then again, there's not really any decent competition for them). First, to answer people what the metal was -- it was just boring studs.
Inside, it gets a lot more interesting, as you can see in the metal studs picture, there's some insulation. That's the hot water pipe. There's also a cold water pipe in there, and some electrical conduit. The column itself is pretty idiot-proofed, but there's no armor on the pipework, instead